Traits of an Extraordinary Business: LinkedIn in the Early Years
Make sure to join my private Facebook Group named "Online Capitalists".
Join now!
Studying how an amazing business was created and grown over time is a highly educational and informative exercise.
Lately, I have been fascinated by the concept of Blitzscaling. The term was coined by one of my favorite entrepreneurs, billionaire founder of LinkedIn, Reid Hoffman.
Here is what he has to say:
"Most value creation takes place not at the startup phase, when new companies are formed but at the "scale-up" phase, when a select number of these companies grow at dizzying pace. This growth is so rapid that I believe it deserves a new term to describe it: Blitzscaling."
Sweet!
Hoffman, along with his co-founder Allen Blue, presented a 20-lectures course at Stanford, named "Technology-enabled Blitzscaling".
In one of the lectures, Hoffman presented a page from LinkedIn's pitch-deck for their Series D fundraising.
Here is the Snapshot on the Investment thesis: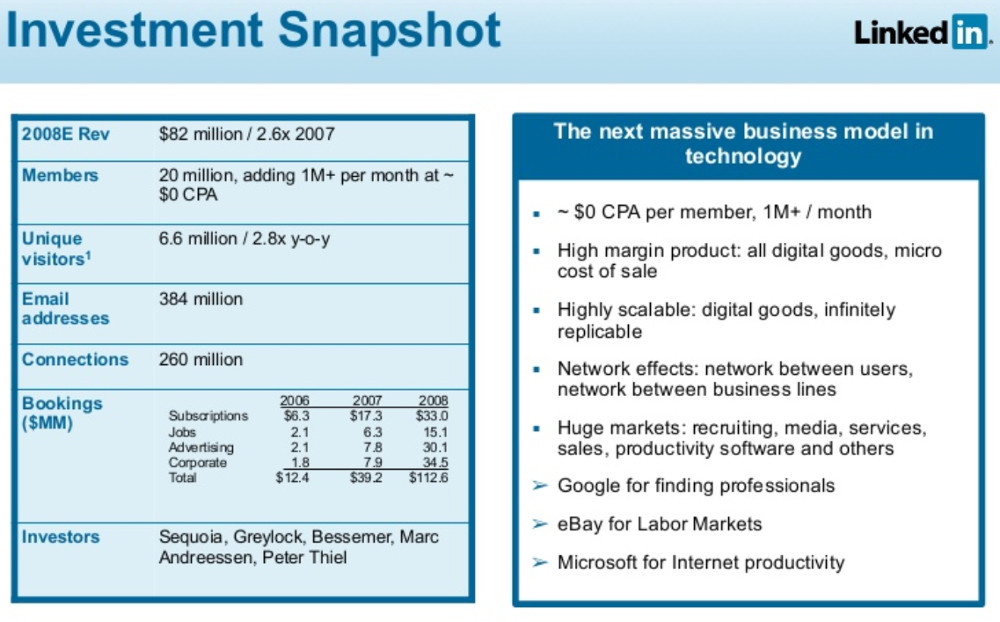 With only a glance, it is obvious that Linkedin was an amazing business even in the early years.
Let's deconstruct the bullet points and discuss these highlights.
Want to get my eBook "From Employee to Online Entrepreneur" as a nice PDF? Download it below!
Real and growing revenue
The first thing to notice is that the business generates revenue ($82M in estimated annual revenues) and, actually, a considerable one.
LinkedIn was not a fancy startup with no concrete revenue model. They were able to quickly reach product-market fit with their platform and then establish a solid revenue model on top of it.
Not only that, they were able to actually grow revenue fast, more than doubling their numbers from 2007 to 2008.
As I have mentioned before, at the early years of your venture, you should be seeking to double revenues year after year. Otherwise, you might be into a model that does not scale well or into a space that is too competitive.
Breaking down the various revenue streams (as shown in the "Bookings" section), LinkedIn had three major avenues of generating revenue: Subscriptions, Jobs, Advertising and Corporate.
All of them were growing fast, but the main revenue drivers were the "Subscriptions" and "Corporate" components.
It is more preferable to experiment with various revenue streams within the same business making it more robust and steady, rather than "diversifying" into multiple, weaker businesses, for the sake of diversification.
Virality and Network Effects
The next interesting point is the 20 million members that LinkedIn had gathered at the time, and most importantly, the 1M+ new members that were joining each month at an almost $0 CPA (Cost Per Acquisition)!
By its nature, LinkedIn is a network and its value is correlated by the number of the nodes (members) that comprise that network.
After reaching a minimum critical mass (a certain number of members), network effects start kicking in.
LinkedIn is valueless if it has a low number of members. But if it manages to attract your colleagues, partners or friends, it becomes very valuable to you.
Hoffman and his team facilitated the member signups by using virality techniques (users were prompted to invite their contacts) and by leveraging content marketing and SEO strategies.
The end result was a robust network and platform where people had a huge incentive to join and they did in droves without the business having to spend money on paid advertising and marketing.
People and Investors
A quick note here on the people that built and invested in LinkedIn.
Obviously, the business was co-founded by Hoffman who was initially part of the Paypal team and had tremendous operational experience.
On the investing side, the venture was backed by some of the most prestigious Venture Capital firms (Sequoia, Greylock and Bessemer).
On top of these, influential people like Marc Andreessen and Peter Thiel (I respect immensely and study both of them) were also part of the investing and advising group.
Being able to attract interest from important people like the aforementioned, and build such a tremendous team of backers, definitely propelled LinkedIn to become the de-facto career and job platform.
Business Model
The business model employed by LinkedIn is an entrepreneur's dream.
The website generates users at almost zero CPA, the products are digital end-to-end which means fat gross margins, the model is highly scalable (essentially it is Software as a Service), the Total Addressable Market is vast (recruiting, sales, etc.), and finally, the business enjoys "monopoly" characteristics, courtesy of its powerful network effects.
Now, take a breath, and read again the previous paragraph because those are the traits of an extraordinary business.
How extraordinary you might ask?
To the tune of $26 Billions, which is the acquisition price that Microsoft (another outstanding business with similar characteristics as those above) paid for LinkedIn.
Conclusion
LinkedIn is an amazing platform (connect with me on it here) and an extraordinary business.
Even on its early days, only a few years after its foundation, it showed those signs that characterize an outstanding business: increasing revenues, high margins, great people and team, and "monopoly" characteristics.
These are the businesses we should strive to build and these are the businesses that are going to dominate the modern era we are living in.
Let's follow LinkedIn's lead!